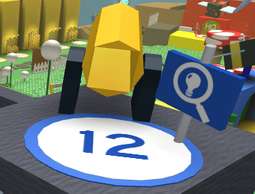 The Yellow Cannon is available to you once you have 12 bee types. It is located on a hill accessible from the Pineapple Patch, next to Science Bear. If you use it without any power-ups or other tools (e.g. parachute), you'll land in the spawn area or near the Dandelion Field near the hives.
Royal Jellies
The Yellow Cannon, combined with the Parachute, can be used to get the Royal Jelly from the top of the tallest dandelion. You can also get the royal jelly on the wall above the Clover Field this way. You can also use it with the Parachute to reach the Royal Jelly on top of the 5th hive near the Onett NPC, but it will require perseverance and skills to reach it. Some Haste, hats, Glider, or bear morph would help reach the Royal Jelly easier.
Trivia
The landing spot of the yellow cannon is marked on the biggest gray tile near the hives which it is a spawn tile. [Looks like an explosion blast].