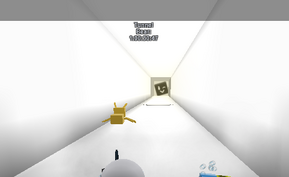 The White Tunnel is a hidden location which can be entered via the Instant Converter near the Pineapple Patch, and exited via a platform in the middle of the tunnel. It is defended by Tunnel Bear. It contains no items other than a picture of a winking bee.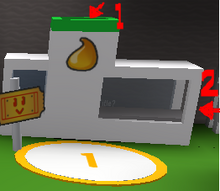 There are two ways to use the entrance: by diving into the top of the instant converter, or by hopping up into the right side of converter. To use the first method, either hop up on one of the shorter parts of the converter, then jump into the chute at the top, or if you don't have enough jumping power to do that, go up to the yellow cannon and dive down from there.
The exit platform will deposit you on top of the Instant Converter that is right next to the Sunflower Field.
Trivia
The winking bee is a hint for the code "Wink".
Before the Sept. 10, 2018 update, the tunnel could also be entered by going outside the map and finding the spot on the top of the tunnel where Tunnel Bear enters it. The update buried the tunnel under green grass to make it more tunnel-like, so this entrance is now much harder to find.
Gallery