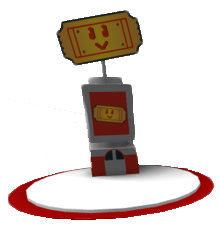 The Ticket Shop is a dispenser that sells tickets. It is located outside the Mountain Top Shop next to the Field Booster. It has a similar appearance to other shops, but with with a ticket attached to it.
Trivia
During the stick bug update, the prices dramatically changed.
The price for tickets increases ? Amount for every ticket you buy. When you buy more than one ticket it increases by the amount of tickets you bought x the amount it increases for every ticket bought.