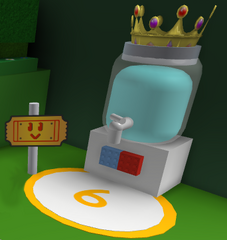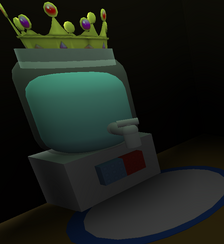 After the 7/11 update (Gifted Update), there are 2 Royal Jelly Dispensers in the game.
Royal Jelly Ticket Dispenser
The 1st dispenser is located near the Clover Field and Slingshot. It requires 6 tickets to be exchanged for one Royal Jelly and 10× Haste. It has a cooldown of 0.5 seconds.
Gifted Royal Jelly Dispenser
The second dispenser is located in the Star Hall. It requires a least 1 Gifted Bee type to redeem a Royal Jelly and Haste+. The amount of Royal Jellies you receive are based on the amount of Gifted Bee types you have. It has a cooldown of 24 hours. For example if you had 50 gifted bees you'd get 50 Royal Jellies.
Notes
It should be noted that the Royal Jelly Ticket Dispenser is actually overpriced.

1 ticket is worth 10 robux, and 1 Royal Jelly is worth 50 robux. Since the dispenser requires 6 tickets, that means you are necessarily paying 10 more robux for one Royal Jelly.

It is advised you keep all your Gifted Bees, regardless of the rarity.

Not only do they give your hive special benefits, but you can gain more Royal Jellies per day. If you had 25 Gifted Bee types in your hive, you could receive 25 Royal Jellies per day!