Red HQ is a large base with a portal, a shop, and other features. It is said that this is the meeting place for all the red bees.
The entrance is found just past the Rose Field.
To get there, you need to be able to get past the Honey Bee Gate. Or you can use cannons and a parachute/glider to get to it. Hats, Boots and the Bear Morph can also give you extra jump-power that allows you to jump up from the Sunflower Field.
The entrance is decorated with a Riley Bee and a Scythe. You can enter if you have discovered 4 different types of Red Bees.
Interior

On the first floor, there are 3 things that you'll notice: a Red Teleporter that will teleport you to a hill behind Science Bear, a Red Field Booster that gives you a boost for one of three "red" fields (Mushroom, Strawberry, or Rose), and a set of Red items for sale.
There is also a
ticket
hidden near the back of the ceiling visible from the ladder. To reach it, build up stacks of
Haste
, then climb the Red Teleporter and jump to it.You will most likely need boots and/or parachute/glide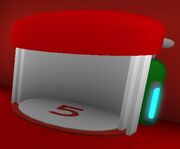 Climb the first ladder to find a Royal Jelly on the roof next to the base, as well as the Strawberry Dispenser. 
Climb the second ladder to reach the top and find the Promo Code "ROOF" on the back side of the white facade, near the large Scythe . 
Store
There is a store in the Red HQ which sells a few items. To open the store, press E while you're not on the Red Field Booster or the Red Teleporter
Red HQ Store Items
Item
Cost
Description
Red Guard
1,000,000 Honey
A durable pad worn on the left shoulder of Red Beekeepers.

[Left Shoulder]
+25,000 Container Space
+10% Red Pollen
+5% Damage Reduction

Elite Red Guard
8,000,000 Honey
A Red Guard reserved for the most dedicated Red Beekeepers.

[Left Shoulder]
+50,000 Container Space
+15% Red Pollen
+7% Damage Reduction
+5% Critical Chance

Riley Guard
60,000,000 Honey
A piece of armor forged by the leader of the Red Bees!

[Left Shoulder]
+100,000 Container Space
+25% Red Pollen
+10% Damage Reduction
+10% Critical Chance
+150% Conversion Rate

Scythe
3,500,000 Honey

Collects 6 pollen from a line of 8 patches in 0.45 seconds. Collects ×3 from red flowers.
Trivia
Players can access the Red HQ just with the yellow/red cannon and parachute/glider. Aim for the Rose Field, and from there enter the Red HQ.