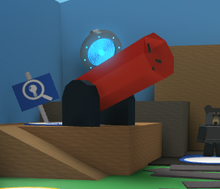 The Red Cannon is available for use once you have discovered 22 bee types. If you have the parachute or glider, you can use it to get to the Star Hall, outside of the map, the tallest dandelion, or on top of the hives. It is located to the right of the hives, next to Black Bear, and near the Ticket Tent and Blue Teleporter exit. If used without any power-ups or items (such as the Parachute), it'll usually put you down in the middle of the Mountain Top Field, though it has been known to undershoot (putting you on the ramp up to the Lion Bee Gate) or overshoot (putting you outside the boundaries of the game). If you have the Scythe equipped, sometimes the red cannon will only manage to shoot you to the Spider Field.
If you have 22 bee types but don't yet have 25 bees (unlikely, but possible), you can use the Red Cannon to bypass the Lion Bee Gate.
This has been patched. Likewise, if you have 22 bee types but don't yet have 30 bees, you can use the Red Cannon to glide or parachute down to pass the 30 Bee Gate, also known as the Bear Gate. Pick the rightmost hive and reset your character. Afterwards, head towards the Red Cannon, with your forcefield still active. Fire it until you reach the top of the Mountain Top Field, and glide towards the gate.
With the Parachute (or the Glider) and the Red Cannon, you can easily get to most places in the map, including almost all of the Royal Jelly locations.
Before the 4/27/2018 update (which added four new bee types), the Red Cannon required 20 bee types to use instead of 22.
Trivia
Red Cannon is the only cannon that has a crosshair on it.
It is one of the three cannons, the other two being the Yellow Cannon and Blue Cannon.
This cannon has the biggest range of all the cannons in the game.
In the 9/10/2018 update people who are lagging now fling out of the cannon, This can result in getting stuck in a wall or being flung out the map.