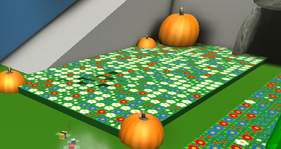 Pumpkin Patch is a field past the Honey Bee Gate. It is right across from the Cactus Field, with the Werewolf's Cave between the two fields. The aforementioned Werewolf defends both fields, plus the Pine Tree Forest.
The Pumpkin Patch is decorated with four pumpkins, with one in the near left and right hand corners, and two in the far left corner. Three of the pumpkins are about the same size while the the fourth one is fairly big.
The Pumpkin Patch is a 17x33, with 561 flowers in total. In this field there are blue, red and white flowers, double and big ones. There are 80 double white flowers (14.26%), 240 big white flowers (42.78%), 25 double blue flowers (4.46%), 90 big blue flowers (16.04%), 30 double red flowers (5.35%) and 96 big red flowers (17.11%).
Trivia
There is a Royal Jelly behind the the two pumpkins in the corner.
Before the 4/27/2018 update, the pumpkin patch had the same mix of flowers as the Cactus Field.
In the 5/12/2018 update, one of the pumpkins in the patch grows a face, spitting on the flowers, giving a higher chance of ticket and honey tokens.