Pine Tree Forest

Field Color
Blue
Bee Prerequisites
15 bees
Field Dimensions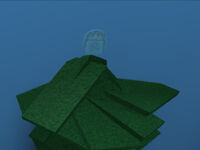 Pine Tree Forest is located behind the Honey Bee Gate. It is protected by two Mantises and, if you haven't already defeated it on your way to this field, the Werewolf. The field is a 16x44 field, containing 704 flowers. It contains blue and white mostly-large flowers (about 85% blue and 15% white).
There is a Royal Jelly on top of the tallest pine tree in this field. To get it, "officially" you're supposed to do the snow parkour starting near Polar Bear using the parachute to glide to the next step. However, it is much, much easier using the Red Cannon and the parachute.
Bees that like the Pine Tree Forest are Bumble Bee, Bucko Bee, Bubble Bee, Diamond bee and Frosty Bee. Bees that do not like the pine tree forest are Rascal Bee, Riley Bee, Rad Bee, Shy Bee and Fire Bee.
Flowers
White
Blue
Total
Small
4
1%
16
2%
20
3%
Medium
43
6%
170
24%
213
30%
Large
59
8%
412
59%
471
67%
Total
106
15%
598
85%
704
100%
Note: the flowers in fields are randomly generated, so the flower counts above may not be 100% correct for you. The percentages should be roughly correct, however.
Trivia
Pine Tree Forest Field Boosts obtained by the Blue Field Booster will be x1. (+100%)
The Pine Tree Forest is the only field "Forest" in their name instead of "Field".