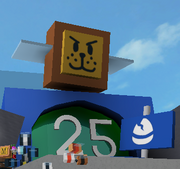 The Lion Bee Gate, aka the Mountain Top Bee Gate, is a gate that requires 25 bees to pass through.
It is given its name because of the large Lion Bee on it.
Before The Photon Bee Update (4/27/2018) there was a method to pass it without the 25 Bees (using the parachute); this method has since been patched.
There is also another way of getting past this gate: haste or jump boost.
Locations
The Lion Bee Gate gives you access to the following locations:
Fields
Shops
Other