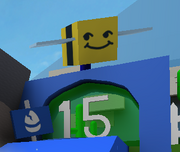 The Honey Bee Gate, also called the 15 Bee Gate, is a gate that requires you to have hatched 15 bees to be able to pass through it.
It is given its name because of the large Honey Bee on it.
Beyond the Gate are many fields and other features.
Locations
The Honey Bee Gate gives you access to the following locations:
Fields
Shops
Other