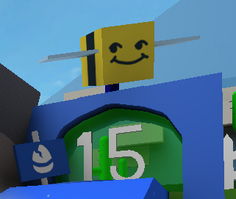 The Honey Bee Gate, also called the 15 Bee Gate, is a gate that requires you to have hatched 15 bees to be able to pass through it.
It is given its name because of the large Honey Bee on it.
There is a way to bypass this gate without having hatched 15 bees by using the Parachute: Go up to the roof of the Mother Bear's tent and paraglide to the top of the tallest sunflower, then jump on to the platform level with the flower. With a bit of luck, this will get you near the Rose Field, which normally requires passing this gate.

There is a Royal Jelly on top of the clouds, here are the clouds:
Locations
The Honey Bee Gate gives you access to the following locations:
Fields
Shops
Mobs
Other
Trivia
The Honey Bee Gate is the gate with the highest number of fields behind it, which is four.