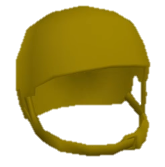 The Helmet is a special item available from the Noob Shop. It costs 30,000 honey. Its description reads "A hard hat that helps prevent head injuries."
It is the cheapest hat which you can buy in the game.
It grants the following abilities: 
+10% Instant Conversion 
+25% Damage Reduction 
+15% Luck 
It is the only hat in the game which didn't have a stats change.