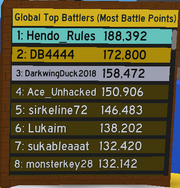 The Global Top Battlers Leaderboard (or Battle Points Leaderboard) shows how many Battle Points the top 50 players have, and is one of the three Bee Swarm Simulator Global Leaderboards, the others being the Global Top Honeymakers Leaderboard and the Global Top Ant Exterminators Leaderboard.
This leaderboard shows how many Battle Points players have collected over time. It shows 8 leaderboard positions at one time. The player can scroll down the leaderboard to see more players, all the way to the 50th place.
If you step on the white pad in front of it, the message "You have X Battle Points" will appear.
The top battler as of 8/18/2018 is Hendo_Rules, with more than 188K points.
Location
It is on the yellow platform beside Panda Bear in front of the Bamboo Field.