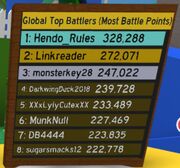 The Global Top Battlers Leaderboard (or Battle Points Leaderboard) shows how many Battle Points the top 100 players have, and is one of the seven leaderboards in the game, the others being the Top Ant Exterminators, the Global Top Honeymakers Leaderboard, the Daily Top Honeymakers, the Top Bucko Bee Helpers, the Top Riley Bee Helpers, and the Top Stick Bug Fighters.
This leaderboard shows how many Battle Points players have collected over time. It shows 8 leaderboard positions at one time. The player can scroll down the leaderboard to see more players, all the way to the 100th place.
If you step on the white pad in front of it, the message "You have (#) Battle Points" will appear.
The top battler as of 12/22/2018 is Hendo_Rules, with over 467K points.
Top 3 Battlers (Last updated 12/22/2018)
Hendo_Rules - 467,689
Linkreader - 448,930
MunkNull - 407,331
Location
It is on the yellow platform beside Panda Bear, in front of the Bamboo Field and behind the Blue Flower Field.
Trivia
Ever since the Beesmas Event Update, Bubble Bee Man can be found behind this leaderboard. He is required for one of Bee Bear's quests.