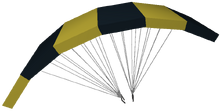 The Glider is an item that can be purchased at Mountain Top Shop, costing 5,000,000 Honey. It floats much faster and farther than the Parachute, allowing the player to fly through the sky to collect Royal Jellies that are located on higher places.
However most/all Royal Jellies and Tickets can also be obtained with the Parachute, so the Glider may be regarded as a secondary upgrade.
Its colors are like bee colors, Black and Yellow, unlike the Parachute.
Both the Glider and the Parachute are activated through a double-jump, and unequiped by jumping while using it.