Blue HQ
Blue HQ
is a two-story base with many features. It is said that this is the meeting place for all the
blue bees
.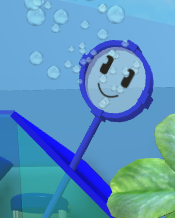 The entrance can be found at the far end of the Blue Flower Field. It has a Bucko Bee above the entrance. To enter, you must have discovered 4 different Blue Bees.
On the roof, there is an enlarged Bubble Wand. This wand sometimes grows a face and blows bubbles to nearby fields. This includes the Clover Field, Mushroom Field, Blue Flower Field, and the Dandelion Field.
Interior
On the first floor, there are two things you'll notice: a Blue Teleporter and a set of blue items for sale.
On the second floor, you'll find a Royal Jelly and a Blue Field Booster, that gives you a 15 Minutes duration boost from one of the three "blue" fields: Pine Tree Forest, Bamboo Field, and the Blue Flower Field.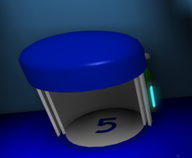 You will also find the
Blueberry Dispenser
, which gives you
Blueberries
every 4 hours.
Store
There's a store in the Blue HQ that sells few items. To open the store, press E when you're not on the Blue Teleporter or the Blue Field Booster.
Blue HQ Store Items
Item
Cost
Description
Bubble Wand
3,500,000 Honey
Collects 4 pollen from a ring of 16 patches in 0.6 seconds. Collects x3 from blue flowers.
Blue Guard
1,000,000 Honey
A durable pad worn on the right shoulder of Blue Beekeepers.




[Right Shoulder]
+25,000 Container Space
+10% Blue Pollen
+5% Damage Reduction

Elite Blue Guard
8,000,000 Honey
A Blue Guard reserved for the most dedicated Blue Beekeepers.




[Right Shoulder]
+50,000 Container Space
+15% Blue Pollen
+7% Damage Reduction
+10% Instant Conversion

Bucko Guard
60,000,000 Honey
A piece of armor forged by the leader of the Blue Bees!




[Right Shoulder]
+100,000 Container Space
+25% Blue Pollen
+10% Damage Reduction
+15% Instant Conversion
+50% Critical Power