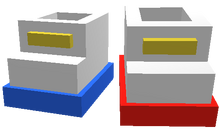 The Beekeeper's Boots is an item which is obtained by completing Sun Bear's final quest from 9/10/2018 - 10/8/2018. After Sun Bear left, they went on sale in the Mountain Top Shop for 33,000,000 honey.
The same way as all the others boots, they were available for sale as soon as Sun Bear left.
They are the best boots available within the game, and they have the bonus of 15% pollen from bees which isn't available on any of the other boots.
Description
Practical and stylish boots that aid in the beekeeping process.
Stats/Abilities
+15% Pollen From Bees
+8 Movespeed
+20 Jump Power
+10 Movement Collection
Trivia
Onett (Quest Giver) wears a pair of Beekeeper's Boots.
The version used by Sun Bear is way bigger than this one.
After the nerf of hats, these replaced the removed bonuses of the Beekeeper's Mask, including the walkspeed bonus (which was 6), the jump boost and the bee pollen boost, which before was 25%. And now with both the mask and these boots is 30%, meaning that now you get more with them.
Using the Beekeeper Boots, you can jump from the Sunflower Field up to the Red HQ, bypassing the 5 and 15 bee gates.