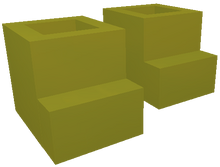 Basic Boots were added in the 9/10/2018 update as a new equipment. It can be obtained from Sun Bear after completing 5 quests and bought from Noob Shop, Sun Bear left on 10/8/2018. The Boots are now on sale for 4,400 honey.
The same way as all the others boots, they were available for sale as soon as Sun Bear left.
They are the lowest tier of boots you can obtain, but that does not mean they are bad, as it is a good boost and help.
Description
Collect pollen as you walk through flowers!
Stats/Abilities
+5 Movespeed
+2 Movement Collection