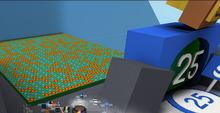 The Mountain Top Field is located behind the Lion Bee Gate. Unlike other fields which get their names from a signature plant that decorates the field, this field has no signature plant, nor is it currently named in any Bear's quest. It consists entirely of large red and blue flowers. It is not defended by anything. To enter you must have at least 25 Bees in your hive.
Trivia
The Mountain Top Field is the only field not represented in Badges.
Players without 25 bees have been known to enter the field through the use of the Red Cannon.
The Mountain Top Field's name is found when you received a boost for the field from the code "Keen4"